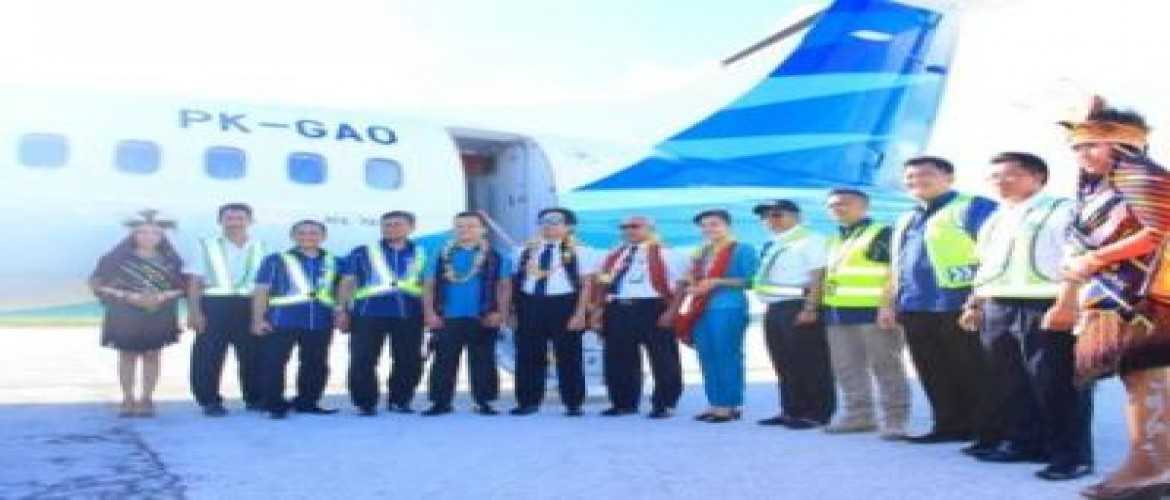 Biak, 18 September 2016 - 15.45 WIT, Garuda type ATR 72-600 aircraft with flight number GA6504 route from Makassar to Biak has landed. The plane, piloted by Pilot Hashim and Mulkatua Hasiholan Limbong with cabin crew Novi Dwi Andriani and Teuku Ryan Syahputra Gade, landing perfectly and were greeted with welcome expression water shot in Biak Frans Kaisiepo Airport by AFFR Team of Frans Kaisiepo Airport - Biak.
Although they have been waiting since the plane has been delayed due to the delayed result of the original itinerary will be landing at 12.45 WIT, did not dampen the spirit of the General Manager and the entire staff of PT. Angkasa Pura I (Persero) Biak Frans Kaisiepo Airport to welcome Garuda Indonesia's ATR aircraft. "All of us hope, with the addition of aircraft in Frans Kaisiepo Airport, Biak could become an attractive destination so that Biak potential can be further improved." Said by Minggus, General Manager PT. Angkasa Pura I (Persero) Frans Kaisiepo Airport - Biak.
"This is the second time I landed in Biak, I previously used a different plane, Air Trigana" said Limbong, CoPilot ATR Garuda Indonesia. "We are honored to be greeted with a very nice and friendly in Biak," said Hashim ATR Pilot Garuda Indonesia.
Inaugural welcoming ceremony ATR Garuda Indonesia Papua accompanied traditional scarf and flowers draping by General Manager PT. Angkasa Pura I (Persero) Frans Kaisiepo Airport and Head of PT. Garuda Indonesia. ATR aircraft of Garuda Indonesia planned will begin operating and will carry out the maiden flight in the morning on 19 September 2016 with a route Biak - Nabire. [BIK PR]